Member
Join Date: Jun 2012
Posts: 77
520 pitch chain conversion on 06 CBR1000RR with pictures and tq specs
---
Ive decided to post up my 520 chain conversion because while i was doing mine i found a lot of misinformation or just plain wrong information when i searched the boards.
First off let me start by saying i am not a motorcycle mechanic but i am fairly handy with a wrench. I do have a fair amount of experience working on high performance cars but motorcycles are still new to me. With that being said i feel most people are capable of doing this conversion themselves if they just take their time and pay attention to what they are doing. Hopefully this write up will help anyone who plans to take on the task themselves.
This is the 520 chain kit i used:
http://www.superbikesupply.com/mm5/m...nversion-honda
-1 front & +2 rear (15f/44r)
Tools needed:
8mm, 10mm, 14mm, 32mm sockets and ratchet
12mm wrench (x2)
torque wrench
chain rivet tool
Dremel or grinder
Torque specs (per service manual):
front drive sprocket 40 ft lbs
rear driven sprocket nuts 47 ft lbs
rear axle nut 83 ft lbs
1. I started by placing the bike on a rear stand and removing the clutch slave cylinder on the chain cover.
2. Next i loosened the two bolts that hold the water pump on (note the two bolts removed on water pump in picture below) and carefully pulled it straight back to give room for the chain cover to be removed. Some people claim this is not necessary but i found it to be a must.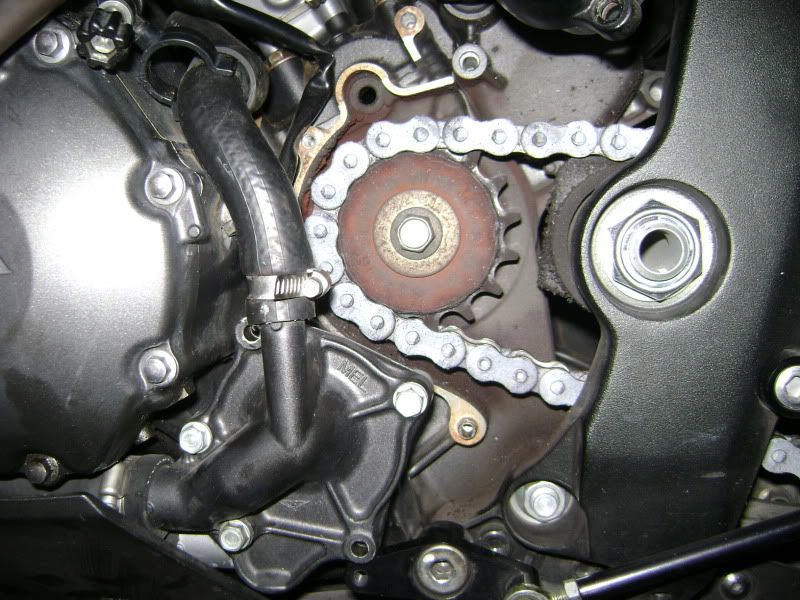 3. After removing the chain cover (i also pulled the slave cylinder pushrod out) with the bike on the stand i very carefully pushed the rear brake lever down by hiking a leg over and loosened the front drive sprocket with a breaker bar leaving the bolt finger tight.
4. Next i used my Dremel tool to grind off the rivet head (and a shop vac to catch the shavings since i did mine indoors) and attached my chain breaker tool to push the pin/rivet out of the old chain. (Old chain below)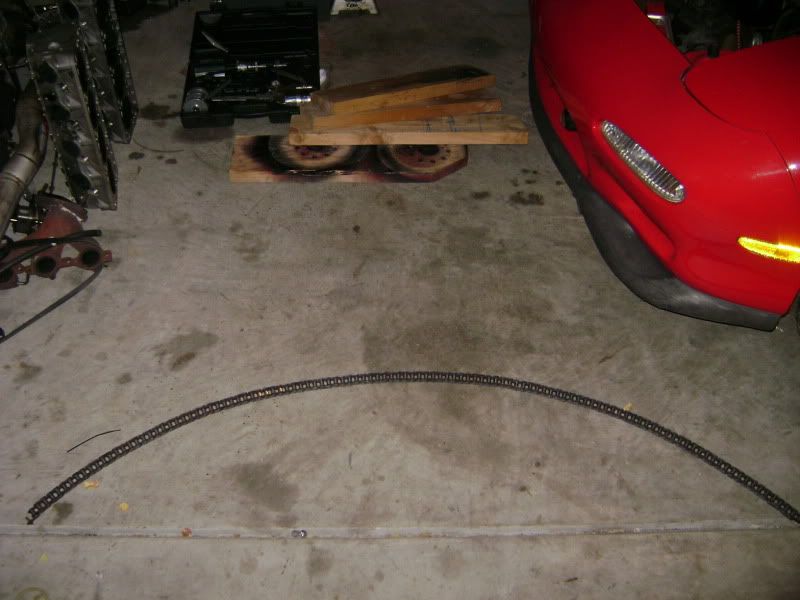 5. After removing the chain i removed the rear wheel and replaced the driven sprocket with the new one torquing the nuts to 47 ft lbs then replaced the wheel on the bike.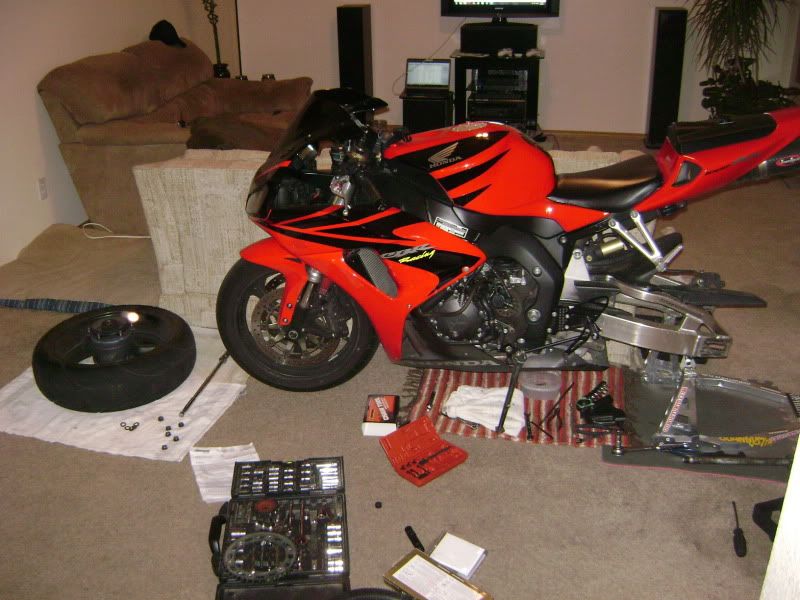 6. Removed the front drive sprocket and replaced it with the new one torquing the bolt to 40 ft lbs. Again use the rear brake to hold everything while torquing drive sprocket nut.
7. Put the new chain on and measured the appropriate length to cut off the extra length of links. Dremeled off the rivet head, pushed the rivet pin out with chain tool, and installed the rivet style master link with O-rings and chain grease.
8. Used the chain rivet tool to push master link side plate on the new master link. (It was kind of a PITA to line it all up and keep it aligned while pressing the plate. Might have been because of the Driven chain tool i was using)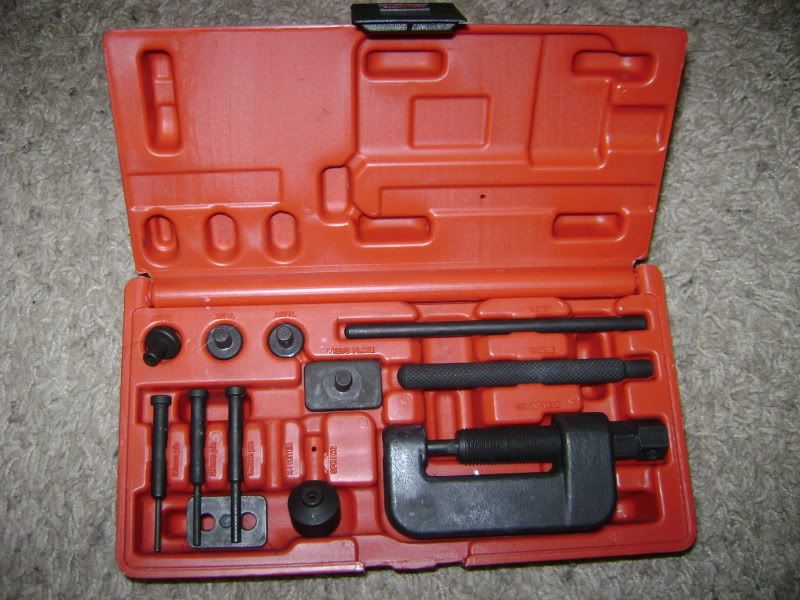 9. After pressing on the side plate so the chain still flexed easily like the other links and did not kink (easier said then done for a first timer. I used a flat blade screw driver to carefully back the side plate off until the link moved easily and freely since i pressed the master link plates too tight at first) then i used the rivet tool to expand the exposed portion of the rivets.
10. Reassemble the chain cover, water pump and slave cylinder. Adjust the chain tension and torque the rear axle nut to 83 ft lbs.
11. After double checking everything its time to take it on a test ride and be sure to break in the new components by riding fairly easy for some miles before giving a full twist of the wrist. Enjoy
After note: If anyone has any recommendations for a better chain tool then the Driven brand please leave some feedback as i bent the rivet expander on the last rivet and it will no longer come out of the tool. Thus i can no longer use the other attachments to break the chain or press on the master link side plates. Any other side notes, tips, or input is greatly appreciated.
---
1000RR Shop Manual Download
06 CBR10000RR Owners Manual
Motorcycle Gearing Calculator
Ride of the Century 2012
How many miles are on your bike and what repairs/maintenance have you done??
2012 CBR1000RR / 93 Mazda Rx7 LsX & 6speed Swap / 02 RSX type-S.
---
Last edited by CaptainRR; 11-11-2012 at

02:12 AM

.
Thanks for the write up! Be safe
---
2013 Suzuki Hayabusa Limited Edition
Gone, but not forgotten,
2008 Honda CBR1000RR
Member
Join Date: Sep 2012
Posts: 48
I agree with the author's point of view! I learned a lot. Thank you!
Junior Member
Join Date: Nov 2012
Posts: 25
Nice write up..DID has a nice chain breaker and rivet tool that will only allow you to rivet so far to keep from over pressing the master. Just saying. If your tool ever bust and one day it will you can always find that kit. Never hurts to know how to do it the old fashion way either.
Senior Member
Join Date: May 2011
Posts: 169
---
ΜΟΛΩΝ ΛΑΒΕ

Being right is bitter-sweet when you're ruled and surrounded by morons.

"Men fight for liberty and win it with hard knocks. Their children, brought up easy, let it slip away again, poor fools. And their grandchildren are once more slaves." - D.H. Lawrence
Member
Join Date: Jun 2012
Posts: 77
Thanks sir. How would you compare it to the DID chain tool? I noticed it has a similar hollow alignment bolt to the Driven tool i used which the rivet and chain breaker pins fit into. While pressing the rivets with my Driven tool it cocked sideways and bent the rivet pin which will now no longer come out of the tool. I will say that the design looks like it is more stable as it has a much wider area to press against.
Quote:
Originally Posted by
Clint.Beastwood
View Post
So far i like it a lot. I have not noticed much if any chain stretch and it has gobs of torque with the 15 front and 44 rear (-1f/+2r). Ive had it pick the front end up a couple of times not expecting it but im still getting use to it compared to the stock 16 front and -1, 41 rear (off 04 cbr 1k) that i had prior. On the highway it runs higher rpm then i would like if i were to take a trip so ill probably buy a smaller rear sprocket just for such an occasion. probably a 42 and a 40 tooth to play with. At 80 mph its right around 6000 rpm which means i dont have to down shift to pass anyone. In town cruising with traffic i find my self shifting a lot from 1st all the way up to 6th, even at 40 mph, and from 6th to 1st again come a stop light. The performance and acceleration i gained from it makes it more then worth it! Ill start playing with wheelies more when i get a few more miles on her and report back.
---
1000RR Shop Manual Download
06 CBR10000RR Owners Manual
Motorcycle Gearing Calculator
Ride of the Century 2012
How many miles are on your bike and what repairs/maintenance have you done??
2012 CBR1000RR / 93 Mazda Rx7 LsX & 6speed Swap / 02 RSX type-S.
Very well written. I read a lot of these and half the time they leave me thinking "Man what is this guy trying to say?"

Good info on the chain breaker kit too. I need to buy one when I get home. Looking like the motion pro is gonna be the winner.

and I love that you did it in the living room. Bad ass.
Posting Rules

You may not post new threads

You may post replies

You may not post attachments

You may not edit your posts

---

HTML code is Off

---