55-60 works for me


Sent from my iPhone using MO Free
meowwww!
Join Date: Nov 2012
Location: pasco, fl
Posts: 353
i always do 65-70mph but im not blipping the throttle
In 2nd I have my RPMs between 6 and 8k, I don't know my speed it's not relevant, then I SLIP the clutch and just hold the throttle in the same position. Once you feel the throttle slip let it go and your front end will jump up a foot or two, when it does just twist the throttle and it come on up. Keep doing this until you get the bike to it's balance point (it will feel like it's not there or it's weightless) keep it there with small adjustments of the throttle and PLEASE keep your back break covered so you can apply it if you bring the front too high. Don't slam on the brake though you will go over the windscreen just bump it. Good luck bro, don't give up you will get it to the balance point and remember what you did and try to replicate it. I hope this helps. Post us a vid once you get it.
---
2012 HRC 1000RR
Yoshimura R77 Titanium SO
BMC Race Filter
PAIR Mod
Flapper Mod
PCV
Z Bomb
O2 Eliminator
LSL Case Sliders
Puig DB Smoke Windscreen
Grey Renthal Full Diamond Grips
Hot Bodies Fender Eliminator Kit
Shogun Swingarm Slider Spools
Integrated Tail Light
ESRM Delete Chip
Street Hooks
R6 Throttle Tube Mod
CRG Blk/Rd Shorty Levers
Sub Frame Powdercoated Black
More To Come
Senior Member
Join Date: Jan 2012
Location: NY
Posts: 370
i clutch up between 55-60 mph keep it the same untill you get really comfortable
I really like doing them staggered and pulling it up in 3rd! It comes up a lot slower, but the rpms are lower, so my bike isn't screaming.. For some reason I feel bad for her when she's yelling at 8-11,000rpm and I'm holding it there..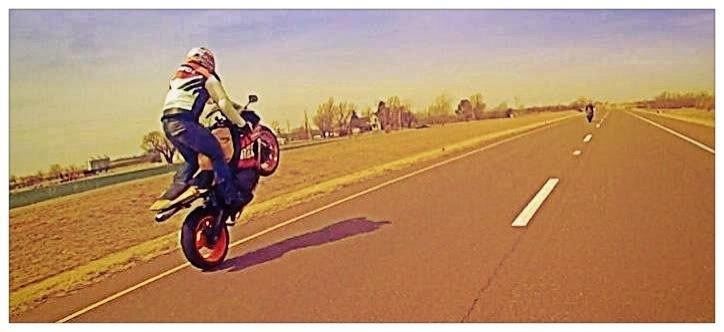 Not quite BP but close.. I'm barely chasing
meowwww!
Join Date: Nov 2012
Location: pasco, fl
Posts: 353
i do it 60-65 in second and it comes straight to balance point and i ride it as long as its safe
Senior Member
Join Date: Apr 2014
Location: Las Vegas
Posts: 120
Its around 60ish in second for me. I've been practicing my third and fourth trying to get the feeling for a standing.
Yeah I also clutch up at about 60 mph in 2nd
I clutch up at 24mph in 4th gear. I also weigh 68 pounds.
Posting Rules

You may not post new threads

You may post replies

You may not post attachments

You may not edit your posts

---

HTML code is Off

---