Angled Aluminum Valve Stems - $22.50 shipped
---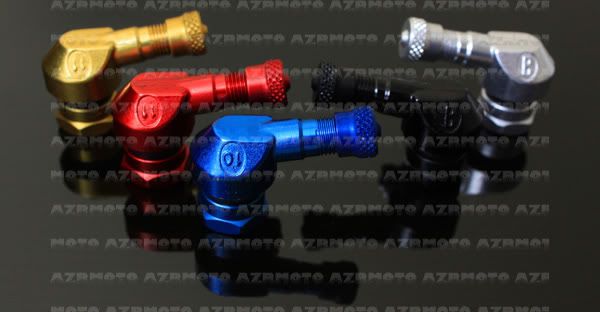 Unlike other valve stems on the market, these are all drop forged aluminum and made in Italy. OEM manufacturer for high dollar Italian bikes such as Bimota, Ducati, Aprilia. Valve stem manufacturer for many F1 teams. Look for the B stamping on the valve to identify these valves from others on the market.
These valves are also sold under the Ariete brand name for alot more money.
Once installed, these stems are life savers when it comes to checking your front tire pressures, no more burnt hands at the track while checking pressures after a session when the rotors are sizzling hot and no more people looking at you funny at the gas station while you are trying to get the air chuck on.
Lighter than rubber valve stems, these weigh in only at 12grams (0.42oz.) each. No need to replace them at each tire change.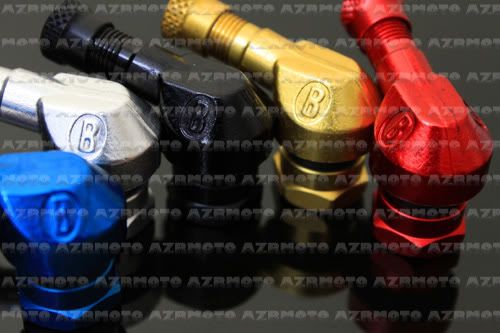 Installation:
1.Clean both valve housing and inside and outside of valve stem hole on rim.
2.Insert valve onto rim, taking care not to damage the gasket at the base of the valve stem.
3.Attach the nut on the inside of the rim to the valve stem threaded body.
4.Set valve stem torque to 7Nm to 10Nm.
Special introductory pricing of only
$22.50 USD Shipped
for the PAIR to anywhere in North America!
If you require shipping to anywhere else in the world please PM me, and I will send you a PayPal link, shipipng will be only $3 USD extra.
Including all years of 1000RR's, these fit most Japanese motorcycles. If you have aftermarket wheels such as Carrozzeria, BST, OZ Racing, Marvic, PVM wheels, PM me and I will get you the right sized valve stems.
We are located in Canada, delivery times are 4 to 10 business days to USA. Canadian customers also don`t have to worry about duties/brokerage fees.
Packages ship out the same day (cut-off time is 3PM EST), if not they will ship the following business day.
I will do my best to answer all emails and PM's as quick as possible, so if you have any questions do not hesitate to ask.
Use the PayPal BUY NOW buttons below to place your order, and please make sure your shipping address is correct.
BLACK [PAIR - SET of 2]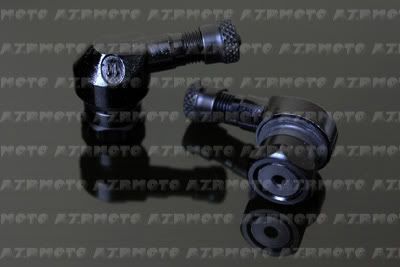 SILVER - POLISHED [PAIR - SET of 2]
GOLD [PAIR - SET of 2]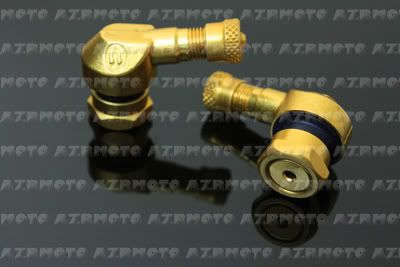 BLUE [PAIR - SET of 2]
RED [PAIR - SET of 2]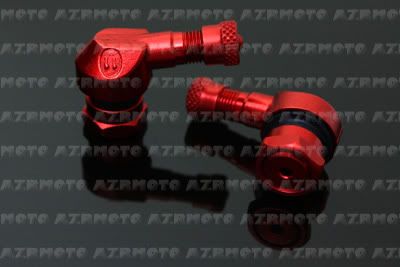 Will work with all CBR 1000RR's and is a must have upgrade
Awesome product. You can actually fit two bikes with one package, since the stock straight valve stem can be retained on the rear wheel.
---
Charlie, We don't want tuna with good taste. We want tuna that tastes good, smells good and puts out.
Member
Join Date: May 2012
Posts: 78
Do you have for a BMW gs800 2009?
---
Quote:
Do you have for a BMW gs800 2009?
As long as they are not the spoked wheels, these will work. If you have spoked wheels on it, unfortunately non of the angled valve stems will work with it.
Every 1000RR needs a set of these or every wheel which you own for it
Junior Member
Join Date: Feb 2010
Posts: 9
valve stems
---
hi, i ordered a set of these a week ago. i sent a couple PMs but no reply. Just want to make sure they are on the way. thanks
Senior Member
Join Date: May 2009
Posts: 112
black pair ordered, thanks.
Junior Member
Join Date: Feb 2010
Posts: 9
Senior Member
Join Date: May 2009
Posts: 112
Posting Rules

You may post new threads

You may post replies

You may not post attachments

You may not edit your posts

---

HTML code is Off

---