Quote:
Uh, you think it has something to do with the burnouts? You know they don't make a tire designed for long burnouts, right?

I usually get 4k miles from a Q2 and it's the sides that wear down, not the middle. I commute 90 miles a day 4 days a week on the Q2's and I take them to the track every 2 months or so.

You need a dual compound tire to help prevent the wear in the middle which the Q2 is, there are many others as well. Now if you had the original Qualifier that was a single compound tire, I wore out the one that came with the bike in 2k miles.
Interesting, I never ever could get 4 k from a Q2. To have the sides wear out first with that many miles daily seems really odd to me. I could only get 2-3 track days and then retire them to street duty and maybe get 2500 miles on them.
I have 2600 miles on my Pilot Road 3s already and they look brand spankin new! I'm at the hospital right now with my girl, but ill try and remember to post up the pic when I do make it home. For a sport touring tire I am able to get stupid low on the streets and it feels so predictable..never had an oh shit moment.
Member
Join Date: Jul 2009
Location: Adelaide, South Australia
Posts: 60
Quote:
Here's at 2600 miles of pretty hard riding..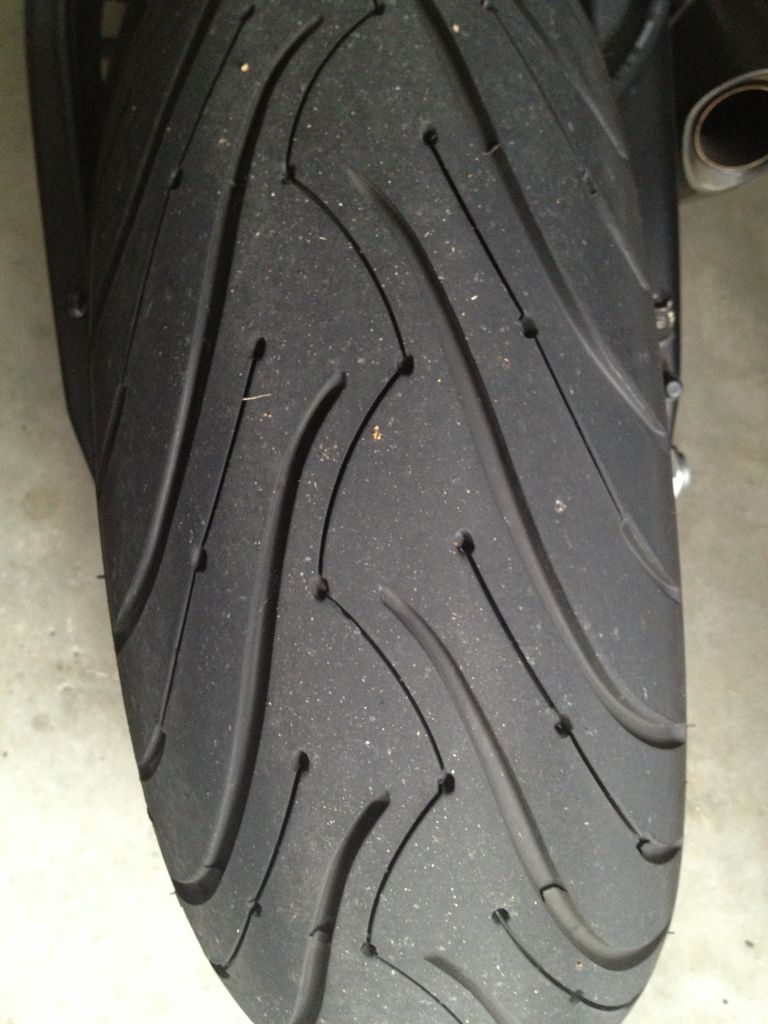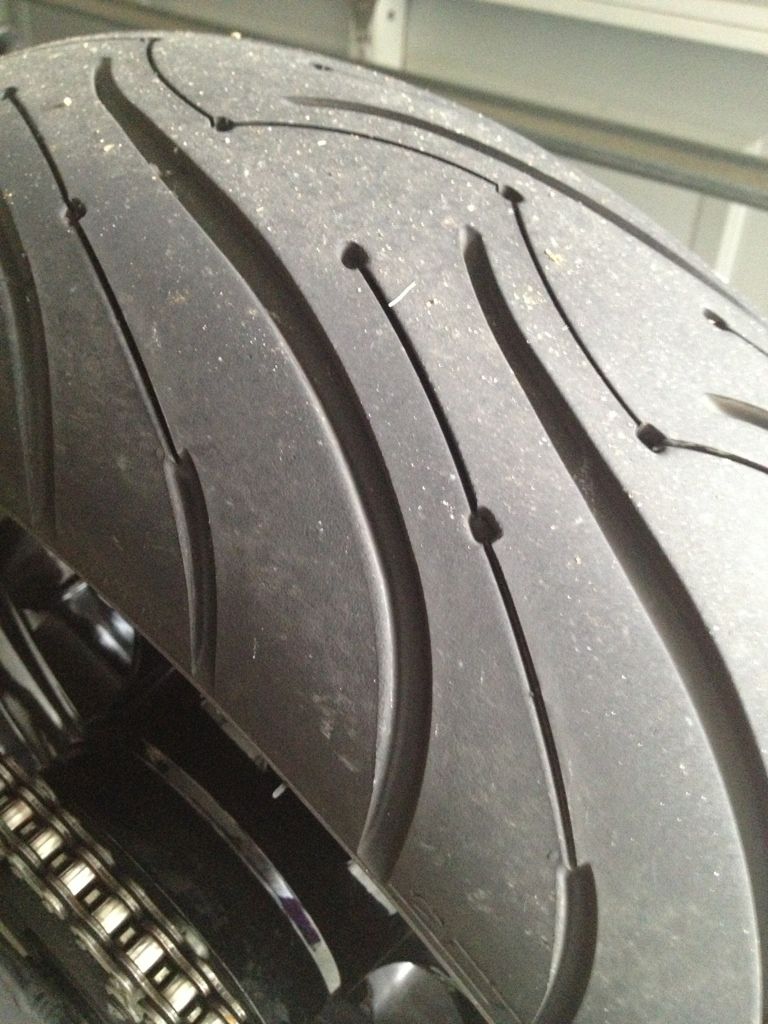 Unless you have just cleaned it. Please for the love of god lube your chain
pure front @ 36 psi/ road 2 rear @ 42 psi... big guy specs...
---
Buy 87 Octane.... Spend the money you save on Ohlins!
2012 Honda CBR 1000RR Mildly Modded...
Integrated Tail Light, Fender Eliminator, A lot of powder coating, FMF Apex S/O, Bazzaz Zfi, Zbomb, block off plates, modded vstacks, emissions and flappers removed, air tubes sealed off, k&n race air filter, SS lines, HH pads. DB windscreen, frame & engine sliders, suspension setup, 520 conversion, speedo healer, and some other stuff that my wife doesnt know about to come.
Quote:
Unless you have just cleaned it. Please for the love of god lube your chain
looks good what psi are you running
Quote:
looks good what psi are you running
36/42 since I do a lot of commuting.
Why does no one run Pirelli Rosso II s ?

I'll be trying a set on my 12. With a 55 rear.... See how the dual compound holds up to the SoCal freeways.

Aaron
---
2012 CBR 1000RR

CVMA #513
Junior Member
Join Date: Nov 2012
Posts: 2
As per my knowledge tires width gives us very good grip on road but is it decrease our speed or not I am still in confusion.
Posting Rules

You may not post new threads

You may post replies

You may not post attachments

You may not edit your posts

---

HTML code is Off

---