Discussion Starter
·
#1
·
I am finally getting around to writing this thread, a HUGE thanks to all for your help, support, information, great prices and selling me some stunning bike tech and mods...you all know who you are...:thumbsup:
I first rode a bike back in the 80's and loved every minute, but crashed allot as I was only young and learning, I never got fully into it and it always took a back seat to my 4 wheel obsession.....Until 5 years ago that is....sick of paying through the nose for tax and fuel then watching the fuel vanish as I sat in traffic I was talking to a colleague one day and she convinced me to sell my car and buy a bike.....best thing I EVER DID!!
So I bought a brand new 2003 CB600 Hornet in 04 and my modifying addiction carried over from cars to bikes, with a number of friends into the the streetfighter scene in a big way and a few others working as engineers and mechanics I had all the help and inspiration I needed to turn
This:
eventually into this:
After 3 years of riding this bike and learning what I could and could not do with it, time came for something with a little more power and poise.
I test rode a number of bikes but only one caught my eye and with the build quality I had come to expect (from the Hornet) The Honda CBR1000RR Fireblade was the only bike for me! I wanted the black and gray 07 new and could not find any near me
I wanted this:
in the end I found a great deal from a dealer in london delivered...3 days later and...
This arrived: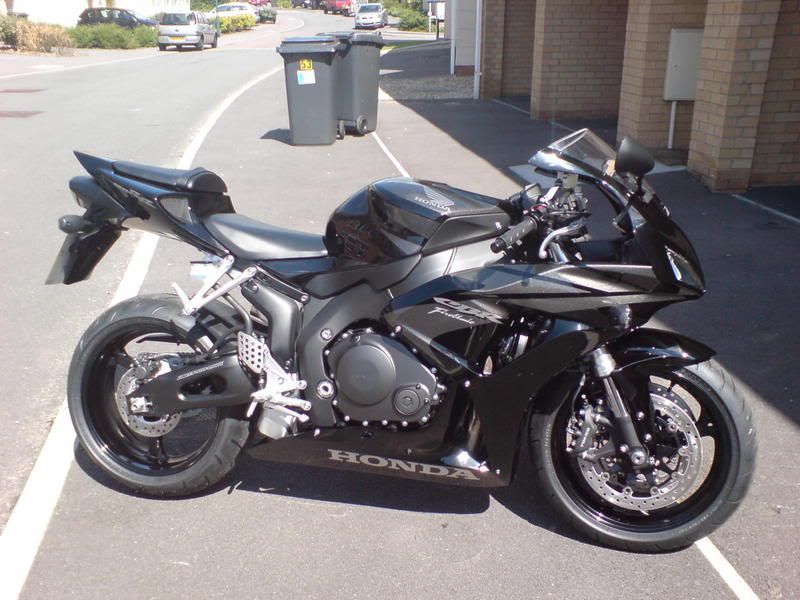 The above images is the only one I have of the stock bike fr two reasons, firstly I got on it and didnt stop riding for 4 hours, secondly as soon as I got home I started modifying it.
An Akra slip-on, R and G spools and a couple of carbon bits later: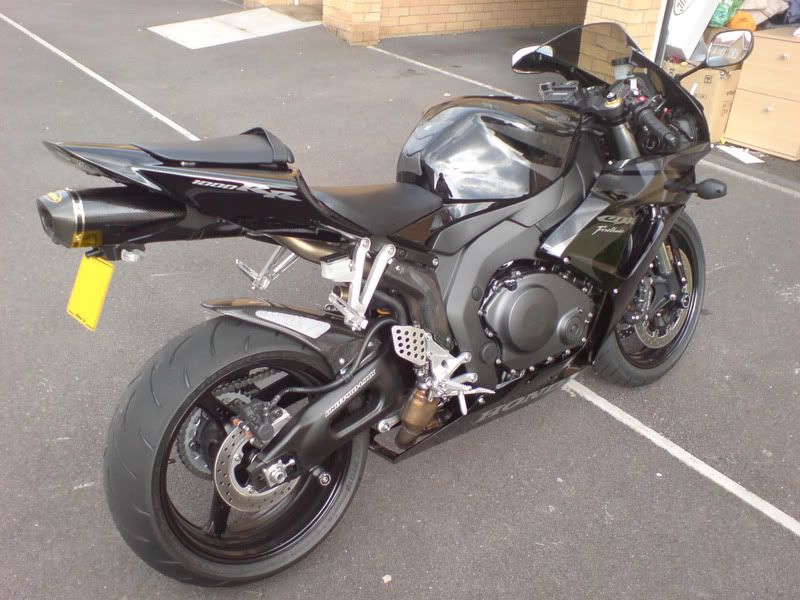 After finding .net and spending a few HUNDRED hours reading and searching recommended mods and essential must fit requirements I got the lines fitted, a few more carbon bits, smoked screen, headlight covers, some trick bits here and there and a bargain set of BST's. This was a good few months after getting the bike and I threw a pic up on BOTM that gave me the November 2007 slot.
As it was: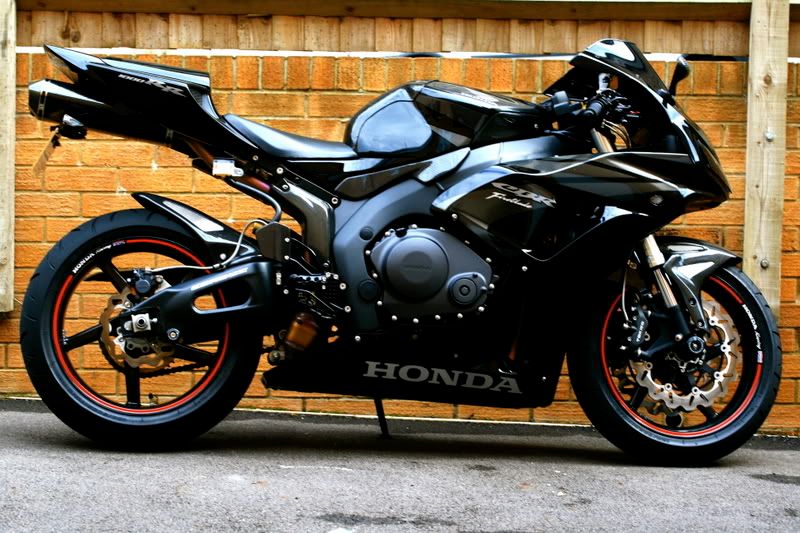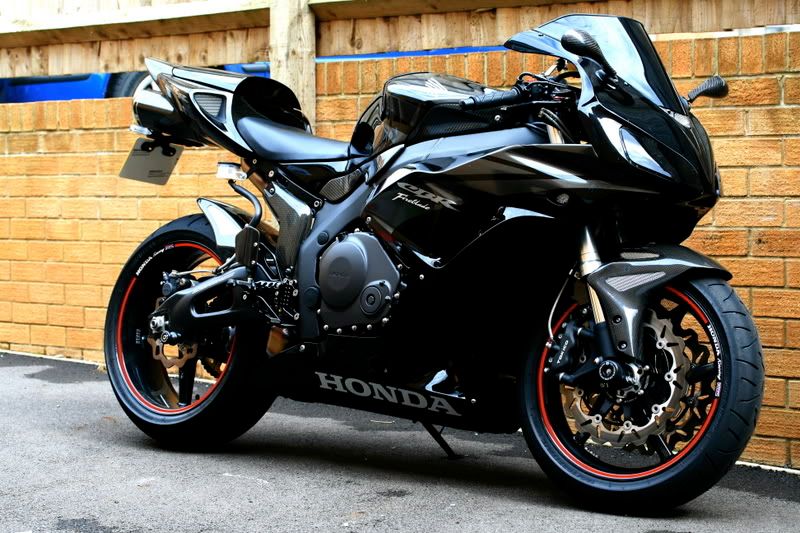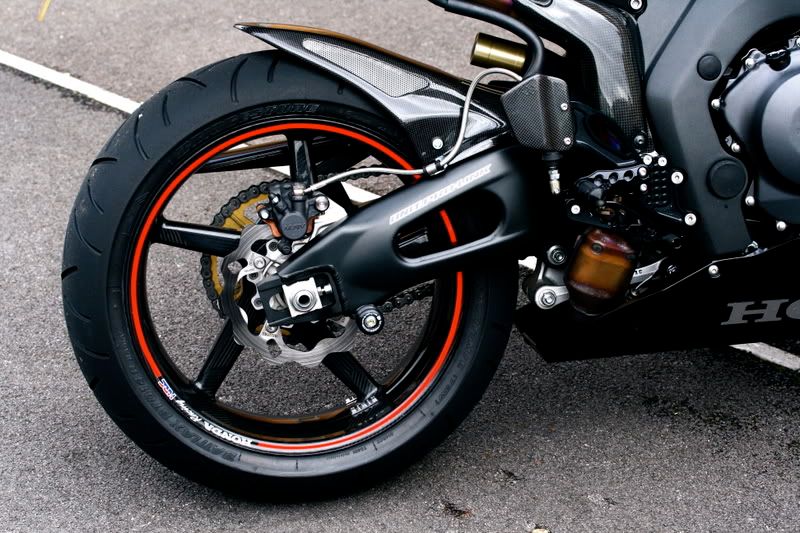 A few more months, a few more payments to Brad, some Ohlins R and T's, TTX rear, a full Akra system to add more power and noise, Dynojet powercommander and Samco hoses:
Can you say BREMBO....brad sure can and once again a shipment from the US... add a couple of Rizoma billet res's and a digi gear indicator: (dont forget the Harris gas cap!)
A red hose here, Slave there, add a posh sprocket cover and a few gilles parts: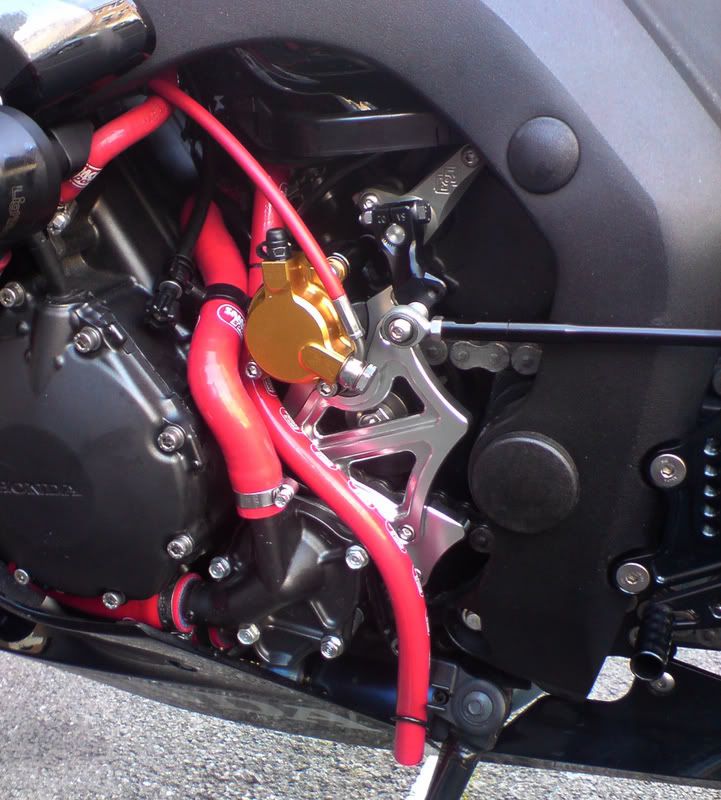 Changed my mind on the hugger and mudguard, needed some higher quality and found the Carbon Fiber works worked for me: