Discussion Starter
·
#1
·
This started out as a 2001 929, it has a modified 2003 954 motor in it. I bough this bike from a friend and had every intension of tracking it, just never did. Now I don't think it is going to be a good bike to learn the track on and am looking for a smaller bike to learn on. Here is what is included:
2001 CBR 929 ER (Erion Race Edition)
Engine Upgrades:
2003 CBR 954 Engine:
- 980 Wiseco High Compression Piston Kit
- Forged Connecting Rods
- Knife Edged Cryo Treated Crank
- Undercut Cryo Treated Transmission
- Ported and Polished Intake
- Pair valve removal kit (crank shaft breather)
- Oversized Forged Intake/Exhaust Valves
- Stage 2 Camshafts
- Power Commander 3R
- Yellr box speedo recalibrater
- Variable Ignition Advance (2 degree current setting)
- Superstock compatible wiring harness (original)
- Approx 175 RWHP (very little low end torque)
Chassis and Suspension Upgrades:
- 0.95 kg/mm Ohlins fork springs (0.90 kg/mm Racetech springs spare)
- Racetech valved front fork
- Double H front brake pads
- Steel braided full double line front brake lines
- Scotts (Ohlins) rotary steering damper
- Vortex Clipons (stock spare)
- Vortex frame slider bases
- 1 Vortex slider puck for frame slider base (requires 1 more for set)
- Vortex rearsets (stock spare)
- 2003 CBR 954 swingarm (stock spare)
- 2003 CBR 954 rear brake hanger (stock spare)
- Swingarm spools
- HRC rear suspension linkage (CBR 2001 stock and CBR 954 10mm lift spare)
- Elka triple adjustable rear shock (stock spare)
- Dunlop medium Slicks currently mounted - 120-70/17 front and 195-70/17 rear
- Race bodywork including superbike tail section
Miscellaneous:
- 1 nameless rear stand
Spares:
- 1 set Dunlop medium slicks
- items indicated above
The bike was lowsided and still bares some of the scares, I have included pics of all the rash I could find. The bike was titled in Canada and does not have a US title. I do have a bill of sale and the contact information for the original purchaser as we are still friends. I am asking $3500 for the package.
Thanks for looking,
Matt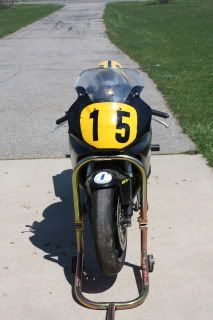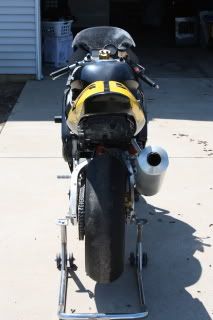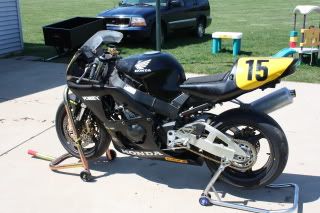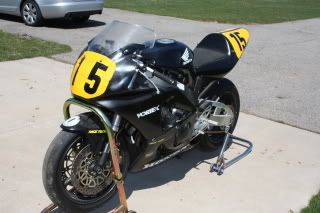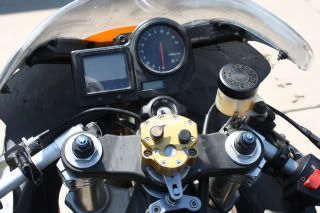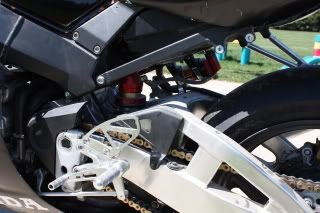 now for the rash