·
'08 1000RR Black & Yellow
Discussion Starter
•
#1
•
Well, gotta call from a Buddy Friday wantin ta know if I'd like to hit the Open Track Day at Jennings yesterday so I said FAWK IT! Why Not..... so we prepped our bikes Saturday loaded everything up Saturday night and left Tampa around 4am Sunday and headed toward Jennings. Weather was awful at that time in Tampa but we were hopin for best at Jennings. All in all it turned out to be a perfect day there. Not too Hot, nice breeze and plenty of Sun!
Ok now to the track experience - I'm gonna spare you the classroom stuff for n00bs which most of you probably have witnessed and is quite boring to be honest. Anyway, out on the track! First off, there were A LOT of people yesterday.... Advanced and Intermediate were completely full which left a few spots open for Novice and some of the Intermediate guys were in the Novice group just to ride. So I'm out on the Track
........ My Goal yesterday was to just learn the Track and get a feel for it, wasn't looking to Wad my shit up the first time out! I really like the Track, especially Turns 1,2, 6-14.... ahhh Hell the whole Track was awesome! LOL I had a problem with Turns 1 and 2 at first just because of the way it transitions and that took a little getting used to the first couple sessions, but by the end of the day I was hittin it pretty good which carry'd my speed thru 3 up to 4,5,6. I didn't really have a problem with 8 that I've heard so much about but maybe that'll come in time as my speed increases. I relly liked the way comin outa 8 into 9 and 10 transition'd which sets you good for 11 then you can just gas it thru 12 up to 13! Now 13 is a monster and a Blast all at the same time (just kinda hard to expalain...... you just have to do it to understand it fully). All in all a great day..... I wasn't there to run records good or bad just wanted to have fun. I think the hardest thing for me was getting used to being passed in such close proximity and also just worring about what's goin on behind me (mentally) I never looked back there but the thought always goes thru your mind "Am I leavin enough room for the guy behind me" and the other mental thing for me was being concerned about runnin outa tire. both I'll get used to the more I frequent the Track. Sorry for such a small amount of pics but we didn't have anyone there to really take them and I wasn't spending 40 buxs for the shots the Pro was took. Enjoy the few pics we did get.
Like my smilie face???? A little Track Day humor! LOL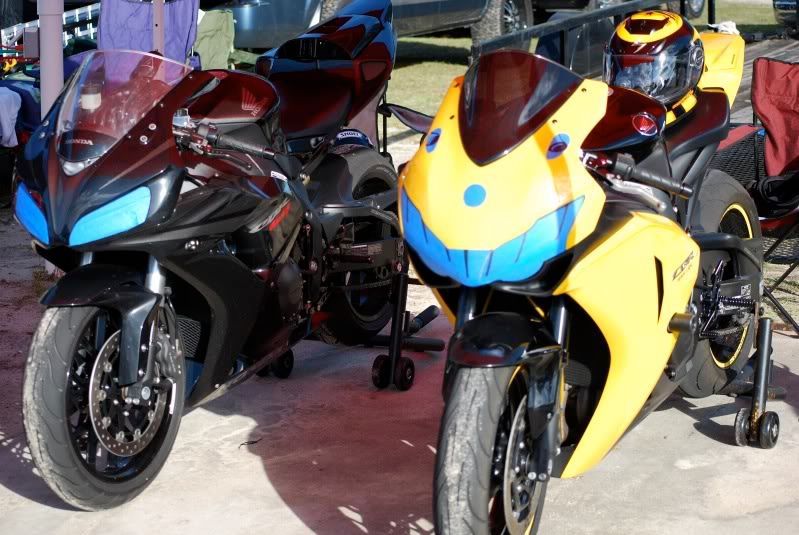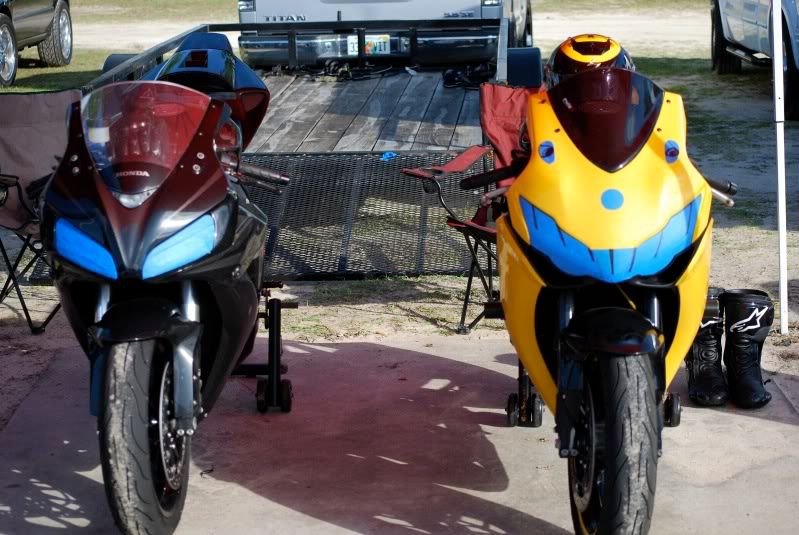 Me Turn 11