Discussion Starter
•
#1
•
I'm doing a write up to hopefully help anyone wanting to do this project as I could not find much help for myself. I would rate this project about a 6 out of 10 for difficulty mainly because if you are not careful, there are some serious things that you could miss which I will point out. As for me, I have never been inside of the engine before so this was quite intimidating going into it but once started, if you have the right tools is pretty straight forward.
My installation was based on the instructions provided and several emails to Yoyodyne for clarification. I can't be 100% sure that everything I did was correct so please verify the steps for yourself as this is just a guide to give you an idea if you feel like it is something you would like to try yourself which you do at your own risk. Also read the service manual as a backup because they often specify specific ways to remove things. If anyone spots any errors in my writeup, please let me know so I can correct them.
First we have the patient. My 2006 1000RR track bike looking at the clutch cover. If you are wondering why I have an engine mount bold missing, I had to remove my No cut frame slider.
Before we start, I bought a brand new clutch pack with new springs to install and laid them out in stock order. There are two different friction plates (6,7) and two different steel plates (8,22). When put together in oem order, they will look like this: 6,22,7,8,7,8,7,8,7,8,7,8,7,8,6 and that is how they are in this picture. You can see the first and last cluch plate (6) is thinner than the others (7). We will change the order when installing them per instructions from Yoyodynes Website.
Next, we add some engine oil to prelubricate all the parts. I just poured it over the stack and rotated the stack while tilting the pan to make sure everything gets covered. I didn't want to run them dry.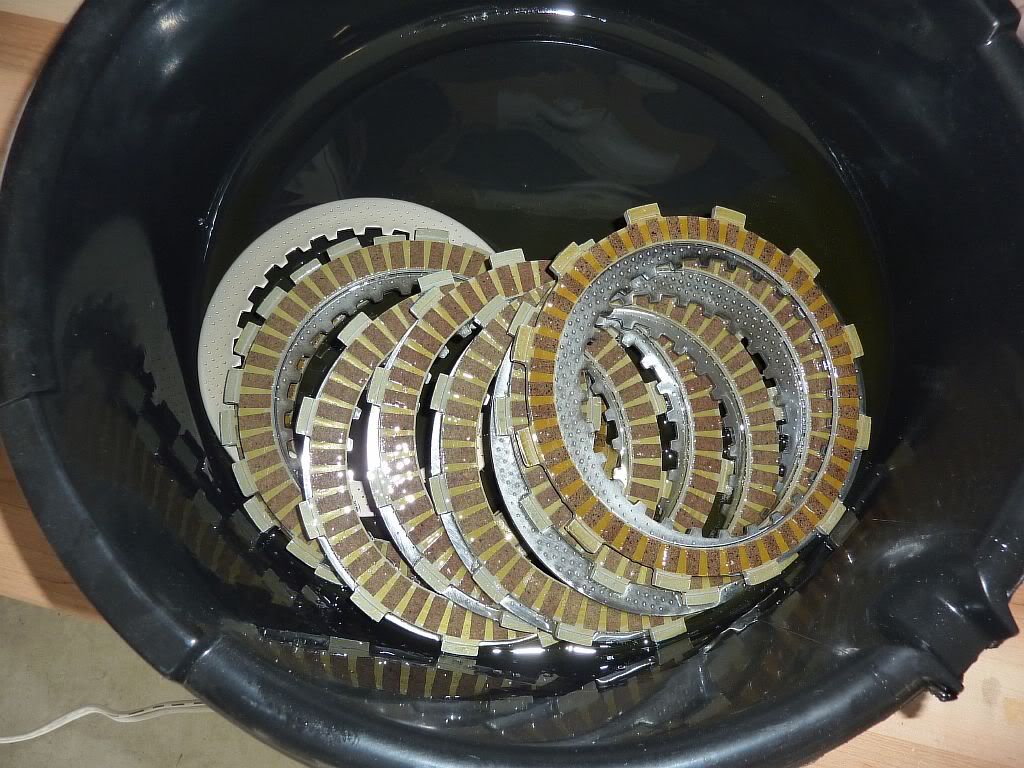 Next we remove all the clutch cover bolts. You don't have to drain the oil as no oil will be lost when you take the cover off.