Discussion Starter
·
#1
·
If you don't wanna read the whole story just scroll down, look at the pictures and find the red section marked "Now for the advice"
Well, I went and fucked up...
Saturday the 4th me and a buddy went for a ride out on Vulture Mine Road towards Wickenburg. It's a road we've travelled many times and, I might add, many times we've taken it A LOT faster than this day. We were both taking it easy since we were both heading to Firebird the following day for Track Day. I was definitely looking forward to my first track day and didn't want to do anything stupid to fuck that up since I know I'll learn more in the 1 hour of track time than I will in months of riding the streets. I was out there mainly to put some more miles on my new Corsa IIIs that I had just installed on Tuesday. Didn't want them TOO fresh for the track.
So, we cruise up until just past the "twisties" and pull over, shoot the shit, take a leak, and just relax for 5 or 10 minutes. We get done, get on and start 'em up and turn around. My buddy stops on the side of the road to check his pockets as a few months back while riding this road he lost his wallet. He didn't want a repeat incident. So, he stops briefly and I buzz past him.
This is a road where most corners are posted as 45 mph but we take easily at 70+. Most of you would probably yawn on this road but for me it is a great place to practice form as well as braking, shifting, and accelerating. From the point he stopped to the first sweeping left is less than 200 yards. I remember looking down and seeing 60 while I was still slightly accelerating. I take the left and position my ass slightly to the right for the next right hander about another 100+ yards up the road.
Here's where it starts to blur...
I don't know for fact but I'm very certain I wasn't going but 60-70 mph around this right hander. I remember leaning into it and at some point just after the apex I realized I was going wide. I knew I was hitting the dirt and I had two choices: 1. keep leaning in hopes of saving the turn and DEFINITELY going down as soon as I hit the dirt; 2. stand it up and try to ride it out through the dirt and back on the pavement with the POSSIBILITY of still going down.
I got to the edge of the pavement, stood it up, and tried to ride it out. I remember struggling to keep it straight while heading for a slight berm that separated the "desert" from the side of the road. I remember my front tire going over that berm and when the back tire hit it it threw me from the bike. Fade to black...
I awoke to several people over me trying to keep me still and asking me all kinds of questions. Eventually took a helicopter ride to Del Web Medical Center where I stayed for about 6 hours while they did CT & MRI scans as well as xrays.
No concussion. Lot's of bruises and a nice laceration on my right shin we determined was from my Sato rearset chewing it up. The results of the xrays showed a slight fracture of the C1 vertebrae. The MRI determined that "a fracture of the C1 vertebrae could not be excluded".
All in all I'm very lucky. My SHOE RF1000 definitely saved my life. I can't imagine what the rest of me would look like if not for the FieldSheer jacket, Icon pants & gloves, and Alpine Star boots. So, for the next few weeks I'm wearing my nice
Miami J collar
until the neurosurgeon sees me and, hopefully, takes some more film to see how the damage is progressing.
So, that's about everything I've remembered. I certainly wish I could say I was simply going too fast but I do not believe that to be the case... well, obviously too fast for my skillset and attention span that morning. The best I can figure is I was not paying attention and day dreaming and forgot where I was in the corner and got wide.
After speaking with my buddy that was there it appears that I made it about 75 yards off road. They could see exactly where I left the road. I road it gradually away from the road where I went over the berm. But, I road it further through a shitload of brush and trees and deserty shit, up the side of a large mound of dirt, back down and over the berm again on my way back towards the road. The second crossing of the berm spit me off.
My buddy said after he got done securing his wallet he saw me take the first left as he was moving so he was less than 100 yards behind me. And he found me unconcious on the side of the road. So, again, I don't believe I was going insanely fast.
Oh well. Enough analyzing... Live and learn, I guess. Right?
Well, so now anyone that feels like it can dogpile me and give me all the "I told you sos" about buying a 1000 as a first bike. I'm sure it will make you feel better even though, in this specific circumstance, the size of bike would have made absolutely no difference. CBR1000 or Ninja 250 wouldn't have mattered. I still would've been doing 60+ and probably still not paying close enough attention.
wned:
So, here you are:
What's left of the bike:
Where I landed (left shoulder as well but it didn't bruise up as well)
The Icon pants didn't hold up so well in the ass. There was a nice rip from the waistband towards the crack of my ass and I apparently slid some distance in that pose.
Couple days later it's looking really good
The shin: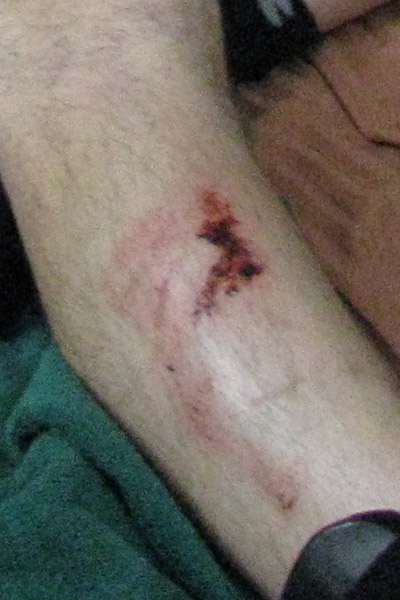 The right hip. Some kind of puncture wound.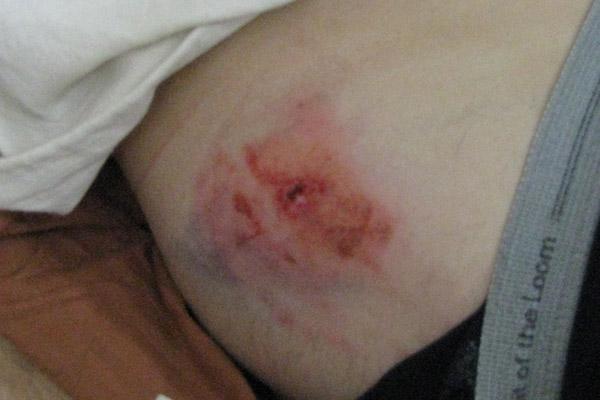 Now for the advice:
I dropped it off at a shop here in town. They took one look at it and said, "they're gonna total it for sure." He's gotten the list together and is waiting for the prices from a Honda Dealership but when the insurance adjuster came by he left with the impression that it was gonna be totalled.
So, I called the shop and asked if this bike was still in good enough shape to use as a track bike. He said definitely for that since you don't need a lot of the electrical shit, lights... yada yada yada... I called the adjuster and left him a message that I may want to buy it back.
What does one offer for a slavaged bike like this?
I'm sure it will depend on the list of shit that needs to be replaced but, in general, what should I expect and what should I offer/counter offer for it?
I know the subframe in back is bent to shit. Exhaust too. Lots of plastic; right side, tank cover, and back seat for sure. I believe the bike flipped and landed on the top right side as the right clipon is bent almost as bad as the slider screwed into it. It then cartwheeled into the back end which bent the shit out of the subframe. The fairing stay appears to be toast. I have the LCD display. The left side is mostly untouched. My Sato rearsets are a little dirty but in great shape. Front brake line was destroyed or disconnected. Clutch still worked but my buddy said it was rough. Fucker started right up, though.
I guess I should get State Farm's buyback cost and then get the list of repairs needed and average the two out and see if that's what I wanna put into a track bike.
Thanks for any help or advice in "tracking" what's left of my bike,