Up for sale here until it gets a bid on Ebay. This is my modified Cycle-Logic plenum and intake pipe with BOV installed. I just pulled this off my bike. I need to sell to fund my grossly over budget intercooler project! Paypal preferred but USPS money order is ok too. Shipping is included for the states. International will be extra. There are some turbo exhaust manifolds on ebay that appear to be Cycle-Logic types that should work with this but the seller won't say where they are from.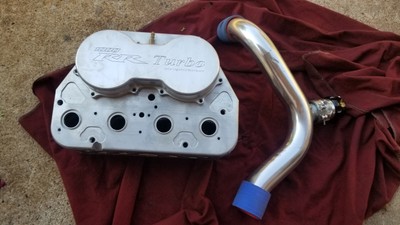 Find many great new & used options and get the best deals for Honda CBR1000RR 04-07 Turbo Plenum CBR SC57 at the best online prices at eBay! Free shipping for many products!
Modified "Cycle-Logic Motorsport" turbo plenum for the 04-07 Honda CBR1000RR. This company has been defunct for a decade and these plenums are rare! Even more rare are ones like this that don't leak. This one is one of a kind!

The plenum has been modified for high boost by deleting the leaky plastic airbox adapter used in the original design. A permanent plate and intake pipe has been welded in place. This means you cannot use oem air filters as originally designed. An air filter must be installed on the turbo inlet. But the plenum will now hold 20+ psi.

The plenum has also been modified with custom aluminum velocity stacks. The oem plastic stacks don't hold up to heat. The oem 5mm shouldered mounting screws that hold the oem stacks and plenum to the throttle body leak and must be discarded. You must drill and tap your throttle bodies for M6x1.00mm and using the included M6 SHCS screws.

A barbed hose fitting was added for wastegate/boost controller/MAP signal.

This plenum has also been modified to accept a Bosch 3 BAR TMAP sensor(PN 0281002437). It will include a spacer plate and screw but NOT the sensor. You will need to block these holes if not using this sensor.

The intake pipe has been modified for a Turbosmart Vee-Port Pro BOV. This BOV is included.

Not shown but included is the seals, screws, and hose clamps required to install this.

There are cosmetic flaws, scratches etc. Two holes on the top cover stripped so I tapped them deeper and used a longer screw. However everything works fine.

You will need many more parts and modifications to make this work. Educate yourself on turbo systems before attempting to use this. I am not responsible for destroyed motors!

Here is some info/photos on the original kit:


CBR 1000RR - 1000rr Turbo Kit !! - We are Cycle-Logic Motorsports.com The creators of this beautiful TURBO kit for the 04-07 CBR 1000rr.

[email protected]

of Boost!!!! http://cgi.ebay.com/ebaymotors/TURBO...92661273QQrdZ1 83718 83719 83720 83721 We are just getting started on being on the forums...